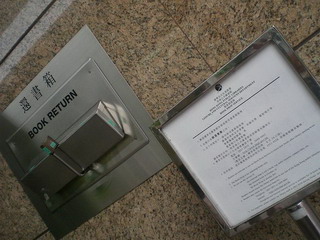 A special feature of the Library is the provision of a coffee corner at the library for readers to take a break.  This is the first district library to provide a coffee corner and the Hong Kong Public Libraries will introduce similar facilities to other new district libraries in the future.
The Chai Wan Public Library has a rich collection of updated reference materials covering a wide range of disciplines.  In addition to an initial book stock of some 150,000 volumes of Chinese and English books, 9,000 compact discs and audio cassette tapes and 4,000 volumes of quick reference books are available.




Moreover, the public may access more than 150 titles of local and overseas newspapers and periodicals in the newspapers and periodicals section.  Also, about 5,000 audio cassette tapes, compact discs, video cassette tapes, video discs, video compact discs and CD-ROMs are housed to satisfy the public needs.
In order to cope with the increasing demand for self-learning, the Library has 52 computer terminals for readers to gain access to the multimedia materials, the Internet and the CD-ROM search facilities.  Twelve Online Public Access Catalogue terminals are also installed.